Galilae.io is globally conscious and locally focused
We are young, high energy and passionate about results. We are motivated by the belief that any digital marketing program can be better. Once a goal is met, another is set. We love helping our clients succeed, then succeed faster. Our beliefs and company culture are the primary factors in our clients' and our own continued success. Enjoy learning more about us below…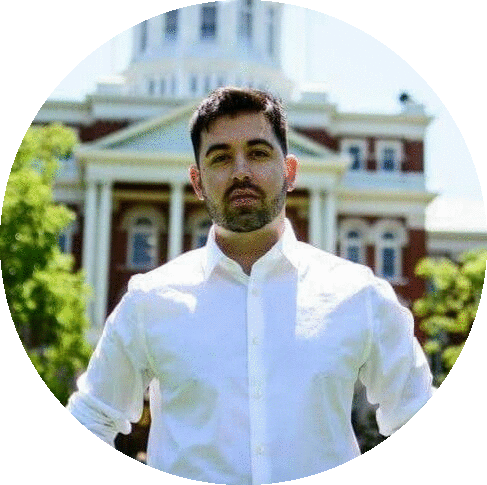 Chief Executive Officer, Galilae.io
- Prior Military Intelligence Analyst for the U.S. Army, working in collaboration with both the CIA and FBI. It was here he learned the fundamentals of data analysis and using quantifiable data to make smart informed decisions, both professionally and personally.
- Prior experience working at Disney learning the ins and outs of Brand Management and what it means to tell a story your audience wants to hear.
- Executive Officer for large Missouri Non-Profit. Leadership at it's finest, and for the betterment of his fellow Missourian.
- Studied Business with an emphasis in both Marketing / Logistics and Analytics at The University of Missouri.
- Long history of helping start-ups and small businesses get found on the internet. A true seasoned professional.
"When local businesses in Missouri win, we all win. Galilae.io is here to make sure we reclaim as much of the market share as we can from businesses that operate strictly online and outside of our communities."
I've worked in the start-up scene for years, founding my own businesses and helping friends grow theirs. In the midst of going through those motions time and time again you start to become very familiar with the skills that remain consistently in demand throughout them all.
And as every entrepreneur or business owner knows, marketing and getting your product or service found is always very high on the list of priorities. That's what lead me to focus on SEO, SEM, and Brand Management because there is always a need for it, and if you do it right it can really help a companies exposure and in turn, their bottom line.
My goal and the mission of Galilae.io is to help Missouri businesses win again. Most local business owners around Saint Louis are getting destroyed by E-commerce, but it doesn't have to be that way. Google actually gives a preference to local businesses in the search results, and it's crazy to me that more businesses don't take capitalize on the volume of users and potentials customers that are out there. Partner up with an Agency who knows E-commerce and knows how to get your business the recognition and market share it deserves.
The Original Galileo was a Celebrated Scientist
He was often called, "The Father of the Scientific Method". Just like the original Galileo, Galilae.io uses structured proven methods to ensure the best possible results for every business we partner with.
He was a Renowned Philosopher, a True Master with Words
SEO is a mix of Science and Art, just like the life of Galileo. You have to know what your audience is searching for in order to be able to show up in their searches. Then once you figure that out, you have to execute.