See what makes us the
Best ST Louis Local SEO Company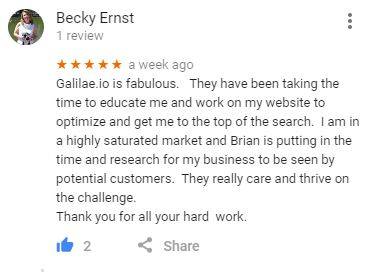 "Galilae.io is fabulous. They have been taking the time to educate me and work on my website to optimize and get me to the top of the search. I am in a highly saturated market and Brian is putting in the time and research for my business to be seen by potential customers. They really care and thrive on the challenge.Thank you for all your hard work."

BRIAN TRULL did a fantastic job assessing my website's pitfalls and positives! His analysis report was very thorough and I now know what I can fix to make my site even better. I look forward to seeing what my website can REALLY do!

Galilae.io helped me gain the visibility needed to increase my customer base, with out it I would have closed my doors. This a must have for small businesses.